Payment Options
The Student Account Statement can be paid by any of the following methods:
Paying with an eCheck is a fast and convenient method to pay the tuition
Tuition can be paid online directly from a personal checking account drawn on a US bank. An eCheck will appear on your monthly statement as PENN STATE UNIV PAYMENT.  There is no fee to pay by eCheck.
Important: A bank debit card or credit card will  NOT work when making eCheck payments. Your bank account number is  not the same number that appears on your debit card. Only checks from regular checking accounts at U.S. domestic banks (including most credit unions) work for eCheck payments. Be sure to copy the routing/transit and account numbers very carefully from your check. If you are unsure as to whether or not your check can be used or what routing/transit and account numbers to enter, call your bank and ask them if your account can be used for ACH (Automated Clearing House), and verify the correct numbers you should use before you try to make your payment on CASHNet.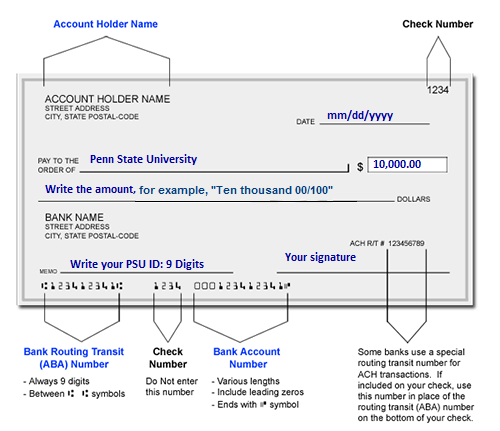 ** If you enter incorrect values, have insufficient funds, or, if you attempt to use a check that is not from a regular U.S. domestic bank checking account, CASHNet will return the transaction. All returned checking and savings payments are subject to a $25 returned item fee. After 2 failed attempts at processing an eCheck, the system places an irrevocable negative service indicator on your account, which will prevent you from using eCheck payment for the duration of your studies at Penn State.**
Tuition can be paid online by credit card
We cannot accept credit cards via mail, phone, or in person. There is a 1.5% Service Fee for each payment made by credit card.
We accept:
Visa
MasterCard
Discover
American Express
We accept check, cash or money order payments by mail or in in person
 If mailing a check or money order, print a remittance stub from LionPATH and mail it with your check or money order made payable to Penn State to:
Office of the Bursar
103 Shields Building
University Park, PA 16802
*Please include your PSU ID on your check or money order.
DO NOT MAIL CASH
Flywire is Penn State's partner for sending international payments.
Penn State has partnered with Flywire to offer a streamlined and cost-effective payment method to send international payments. As Penn State's preferred international payment method, Flywire can save you a significant amount of money compared to traditional banks by offering excellent foreign exchange rates - allowing you to pay in your home currency (in most cases). Flywire can help any student, anytime by eliminating hidden bank fees - so every student saves regardless of the currency you pay in!
Pay your tuition in a few easy steps: 
The benefits of paying through Flywire
Eliminate hidden bank fees - ensure Penn State receives the correct amount.
Save on exchange rates - in most cases you can make a payment in your home currency.
Peace of mind - payment tracking and 24x7 multilingual customer support.
Additional Information
Any additional funds received by Penn State in excess of $5,000 beyond the current tuition and fees will be saved in your student account for next semester. No refund of more than $5,000 will be made.
Questions concerning Flywire: 1-800-346-9252, 1-617-207-7076, or send an email to: support@flywire.com
Enroll in the Installment Payment Plan every semester
 Penn State offers an Installment Payment Plan EVERY semester which allows you to pay your tuition in installments over three months.
Number of Payments
Three per semester
Payment Due Dates
Fall Semester: August, September, October
Spring Semester: December, January, February
Additional Fees
$45 non-refundable

Covers all administrative costs.
Restrictions
None - Any student/authorized payer can enroll in the Installment Payment Plan

The first 1/3 payment is calculated on the balance due after all student aid has been reflected on the semester bill. No form of student aid (including External Awards, i.e., outside scholarships) can be used to satisfy the required installment payment.
Any prior balance due on the account must be paid first in order to enroll in the Installment Payment Plan.
Enrollment
When you receive your tuition bill

Enrolling in the Installment Payment Plan every semester is easy. Once the first bill for a semester is available students and authorized payers can enroll in the Installment Payment Plan and make the initial payment. In order to sign up for the Installment Payment Plan, students/authorized payers must pay using an eCheck or a Credit Card and agree to sign up for auto-deduction for the remaining installments.
Important:To enroll with 1/3 of the payment, please make sure to complete the enrollment process and make your first installment payment prior to the first installment payment due date. Enrolling after the first installment payment due date, will require 2/3 of the balance due in addition to the $45 enrollment fee by the second installment due date.
Installment Payment Plan
Enroll in Penn State's Installment Payment plan EVERY semester and pay your tuition in installments over three months. A $45 non-refundable administrative fee applies EVERY semester you choose to enroll in the Installment Payment Plan.
Notifications
Yes

Once signed up, you will receive notification of your subsequent installments in advance of their due dates.
Late Payments/Negative Service Indicators
Payment not received by the due date will result in a negative service indicator being placed on the account. Negative service indicators have multiple implications including not being able to register for a course/future semester, not being able to purchase transcripts, and if graduating a hold on receiving your diploma. Failure to make a payment by the due date may also result in the suspension of your Installment Payment Plan and the assessment of a 1.5% late fee retroactive to your first bill.